Postdoc Achievement Awards 2023
Six Postdocs Honored with Achievement Awards
September 29, 2023
By Katya Hrichak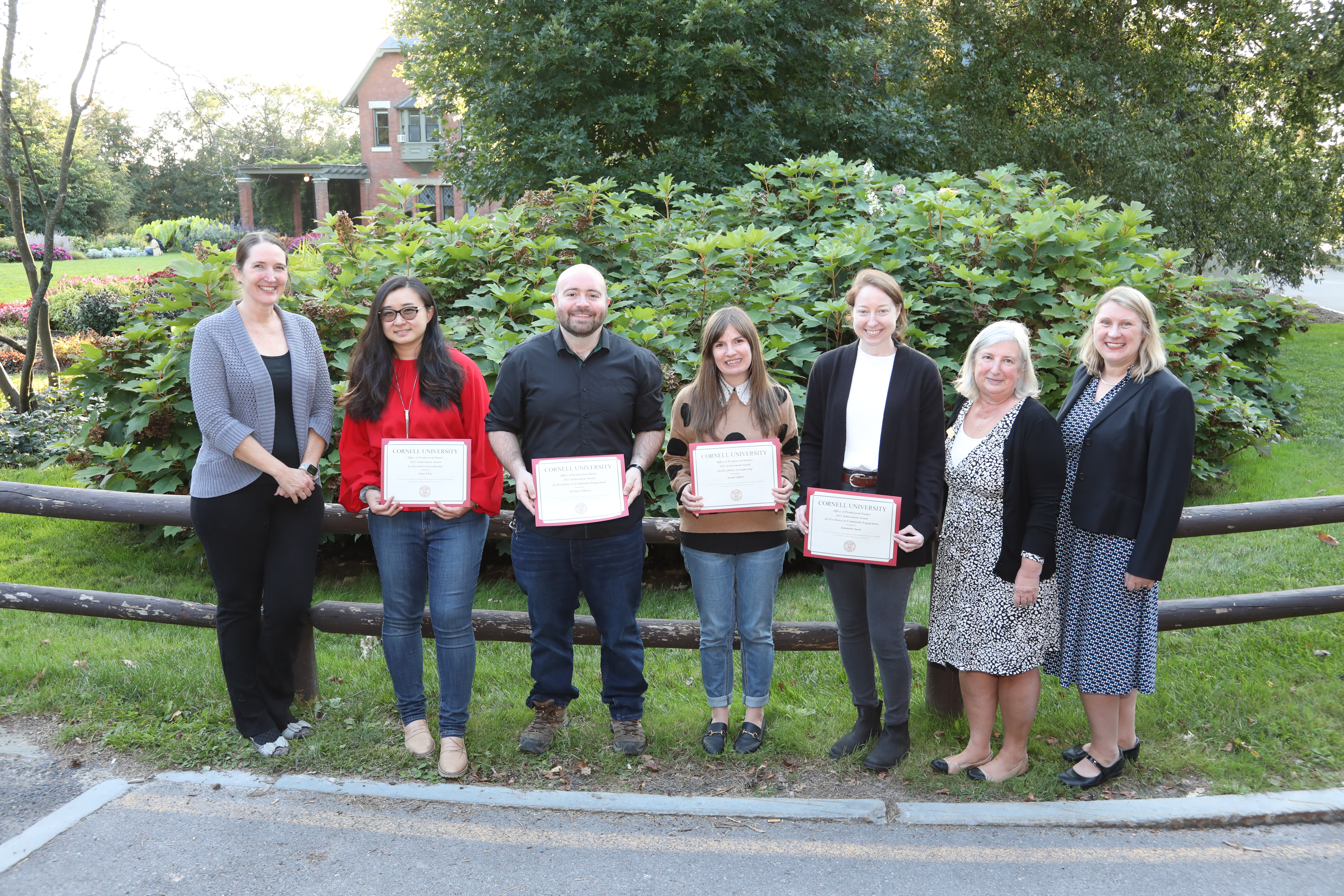 Six postdoctoral scholars have been honored with Postdoc Achievement Awards as part of Cornell's participation in National Postdoc Appreciation Week, celebrated Sept. 18-22.
Cornell currently employs 790 postdoctoral scholars who are appointed across nearly 90 departments where they actively participate in the university's research, teaching, and extension missions. The Postdoc Achievement Awards recognize individuals who have made contributions to community and show commitment to promoting inclusion at Cornell and in society. Winners were nominated and endorsed by letters from faculty, staff, and graduate and undergraduate students in one or more categories.
The awards and recipients are:
Achievement Award for Excellence in Community Engagement: Samantha Sanft (archaeology) and Zachary Ulibarri (mechanical and aerospace engineering)
Achievement Award for Excellence in Leadership: Xuan Chen (physics) and Sarah Gilbert (communication)
Achievement Award for Excellence in Mentoring: Alyssa Kaganer (public and ecosystem health) and Anusha Shankar (Lab of Ornithology)
"Mentoring students gives me purpose and so much satisfaction," said Shankar, who was honored with an Achievement Award for Excellence in Mentoring for her work creating a mentoring program through the Cornell Center for Vertebrate Genomics' Trainee Executive Committee. "I am so proud of what my students have achieved. I am also really invested in making academia a supportive place and spreading a culture of thoughtful and intentional mentoring."
Chen, who received an Achievement Award for Excellence in Leadership for her work in connecting postdocs from across the university through community events and conversation, shares an interest in improving academia for everyone.
"I'm very honored to receive this award. I hope it can encourage more postdocs to work on creating a strong and supportive community among postdocs and a broader group," she said. "We should pay more attention to the people who make research happen, instead of just the research itself."
Award recipients were recognized during a Postdoc Appreciation and Awards Reception, held on Sept. 19.
"Postdocs are an integral part of Cornell's community," said Christine Holmes, director of postdoctoral studies. "The annual Postdoc Appreciation Awards are one way we like to recognize their contributions across the university."
The Postdoctoral Achievement Awards were established in 2018 and are awarded annually to postdoctoral scholars at Cornell.
Postdoc Spotlights: