Postdoc Advisory Committee
---
Mission Statement:
The Postdoctoral Advisory Committee seeks to enhance the experience of postdoctoral scholars at Cornell University by working towards improving their professional and social well-being.
---
Our Goals:
To advise the Office of Postdoctoral Studies in the interests of postdocs.
Support the professional development of postdocs by connecting them to Cornell University resources and ensuring diverse career development opportunities exist.
Foster connections between postdoctoral scholars by providing opportunities for social and professional interaction to create a university-wide community of postdocs.
Promote relationships between postdocs and local professional and academic institutes, societies, and organizations to create a sense of belonging to the larger Cornell Community.
Advocate for constructive changes in policies that affect the lives of postdocs and their partners/dependents.
Endorse diversity among the postdoctoral community by promoting an inclusive environment for all regardless of race, ethnicity, sex, sexual orientation, gender identity, age, disability, national origin, socioeconomic status, marital status or religion.
Provide recognition to postdocs who make significant contributions toward the betterment of the university and society.
---
Postdoc Advisory Committee
The group acts as an advisory board, and helps maintain relationships with the rest of the postdoc community.
Daniel Mate Balazs
Chemical and Biomolecular Engineering
dmb442@cornell.edu
Tisha E. Bohr
Molecular Medicine
tbohr@cornell.edu
---
Postdoc Achievement Awards
We are pleased to announce the creation of the Postdoc Achievement Awards, the awards will be given out during the National Postdoc Appreciation Week .
The Postdoc Achievement Awards honor and showcase postdocs who have made outstanding contributions to community or organizational change and show a commitment to promoting equity and inclusion at Cornell and/or throughout society as a whole. Every year one of each of the following awards will be granted to deserving postdocs:
Achievement Award for Excellence in Leadership
This award recognizes postdocs who demonstrate innovative, initiative-driven leadership impacting their academic, work or community environments. Those who receive this award have shown a commitment to developing academic and civic responsibility in themselves and others with an emphasis on equity and inclusion.
Achievement Award for Excellence in Community Engagement
This award recognizes postdocs who have fostered postdoc communities and involvement on campus or participated in outreach projects that connect Cornell with public needs. Those who receive this award have significantly contributed to the betterment of the targeted community and/or appreciation for Cornell within the public community.
Achievement Award for Excellence in Mentoring
This award recognizes postdocs who have fostered inclusion and equity in higher education through exemplary mentorship and/or outreach activities within the Cornell and local community. Those who receive this award have shown an unwavering commitment to promoting the growth and personal and professional development of students and trainees of diverse backgrounds.
Awardees 2019
Achievement Award for Excellence in Mentoring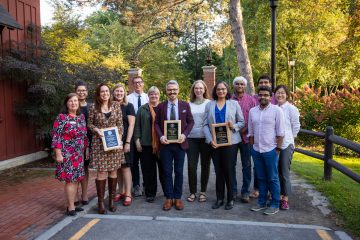 Iván Chaar-López, Latino Studies Program
Benyamin Davaji, Electrical and Computer Engineering
Achievement Award for Excellence in Leadership
Anaka Aiyar, Applied Economics & Management
Achievement Award for Excellence in Community Engagement
Danielle Eiseman, Earth and Atmospheric Sciences
Awardees 2018
Achievement Award for Excellence in Teaching & Mentoring
Oliver Bracko, Biomedical Engineering
David Toews, Laboratory of Ornithology

Awardees 2018
Achievement Award for Excellence in Leadership
Tisha Bohr, Molecular Medicine
Susan Cheng, Bio and Envir Engineering
Achievement Award for Excellence in Community Engagement
Elizabeth Day, Bronfenbrenner Center
Ana Maria Porras, Biomedical Engineering